The Middlesex Hospital Alliance is comprised of two partner sites
---
Four Counties Health Services
Four Counties Health Services (FCHS) is a primary care facility people providing emergency care, diagnostic services, and rehabilitation. Serving approximately 23,000 residents, it is located in the village of Newbury.
Strathroy Middlesex General Hospital
Strathroy Middlesex General Hospital (SMGH) serves a population of approximately 35,000 residents in the second fastest growing township in Ontario.
Within our Middlesex Hospital Alliance family, over 500 physicians, employees and volunteers care for patients in our communities. Together, we're creating a more integrated and seamless approach to treatment by embracing and seeking out partnerships, through collaboration and investing in our people. This coordinated approach helps to ensure that we provide a high level of service while reducing costs and continually enhancing quality.
Our Strategy
The Middlesex Hospital Alliance strategic plan outlines our goal to provide the best patient experience possible. It includes a strong focus on learning and innovation, applying the knowledge and expertise of our people with the most current science based medicine to provide excellent patient care.
Our strategy is about making changes to enhance the care we provide. We must ensure we're delivering care that makes sense in our health-care system by working in partnership with others to maximize resources. Factors such as an aging population in the geographic area that we serve, and responsibility to ensure financial resources are invested wisely helps us to determine the level of service our community needs.
Accreditation
The Middlesex Hospital Alliance (MHA) is accredited by Accreditation Canada, an organization that works with health care facilities to improve quality, safety and efficiency. In November 2021, Accreditation Canada awarded MHA Accreditation with Commendation after a rigorous review involving speaking with staff, reviewing policies and corporate documents, and completing clinical tracers of the patient experience.
Hospital accreditation is defined as "A self-assessment and external peer assessment process used by health care organizations to accurately assess their level of performance in relation to established standards and to implement ways to continuously improve". Critically, accreditation is not just about standard-setting: there are analytical, counseling and self-improvement dimensions to the process. There are parallel issues in evidence-based medicine, quality assurance and medical ethics, and the reduction of medical error is a key role of the accreditation process. Hospital accreditation is therefore one component in the maintenance of patient safety.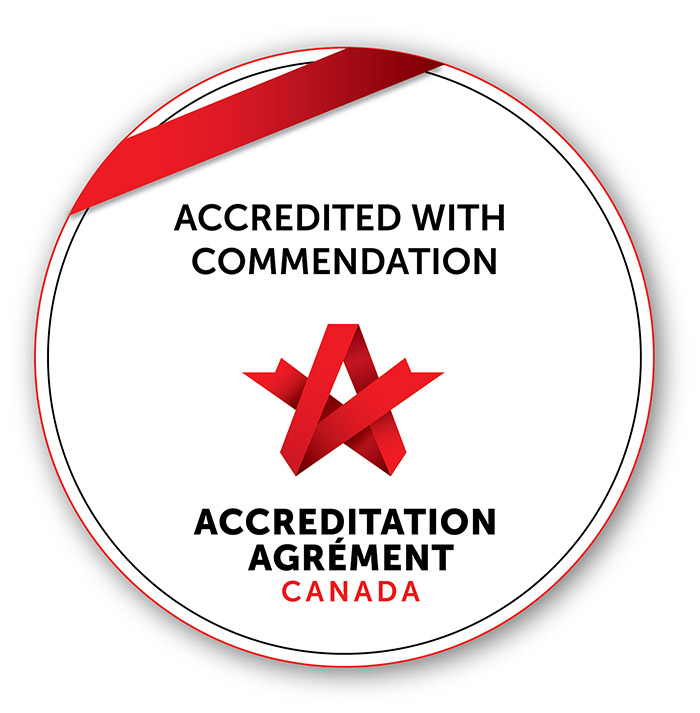 Click here to read the 2021 MHA Accreditation Executive Summary Report